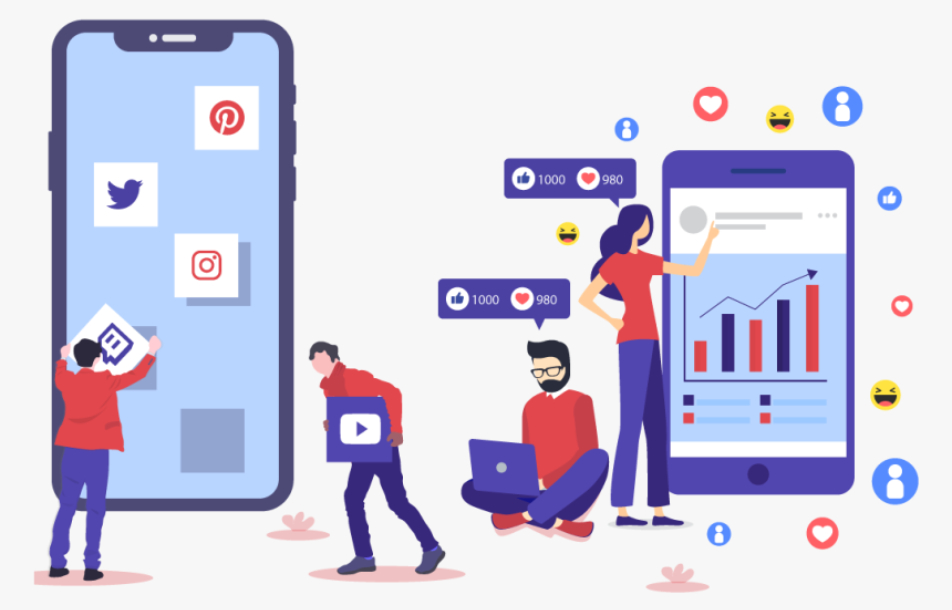 Best Social Media Optimization Services
Social media optimization (SMO) is a set of techniques used in digital marketing to enhance the visibility and reach of a brand or individual on social media platforms. It involves optimizing various elements of social media profiles and content to maximize engagement.
SMO plays a vital role in enhancing your online presence, increasing brand awareness, driving website traffic, and engaging with your target audience. By utilizing social media platforms effectively, you can effectively grow your online business.
Social Media Optimization (SMO)
Social Media Optimization, is important for your online business for several reasons:
Increased visibility :

SMO helps increase your online visibility by leveraging social media platforms. By optimizing your social media profiles.

Targeted audience engagement :

SMO allows you to connect with your target audience directly. Through social media, you can engage in conversations, respond to queries, and provide customer support.

Increased website traffic :

Sharing links to your website or specific landing pages on social media platforms, you can drive more traffic to your site.

Influencer Collaboration :

Partnering with influencers can help amplify your brand's visibility and expand your audience.

Improved search engine rankings :

When your content is shared and engaged with on social media, it indicates to search engines that your content is valuable and relevant, potentially boosting your website's visibility in search results.

Social media optimization (SMO) services refer to the strategies, techniques, and activities aimed at maximizing the visibility, engagement, and overall performance of a brand or business on social media platforms.

User Experience (UX) :

Providing a positive user experience on a website, such as fast page loading times, intuitive navigation, and mobile responsiveness. A good UX enhances engagement and encourages visitors to spend more time on the site.

Local SEO :

Optimizing a website to appear prominently in local search results, especially for businesses targeting a specific geographic area. This includes optimizing Google My Business listings and building local citations.
Why choose Kudosta Solutions LLP as your SMO Marketing Company?
Utilising the power of social media has become crucial for businesses to succeed in the quick-changing and constantly-evolving digital ecosystem.
Kudosta Solutions LLP is a leading SMO Services company, setting new standards in the digital marketing industry. The company offers a wide range of solutions, including social media account management, content creation and curation, community engagement, influencer marketing, and performance tracking.
Kudosta Solutions LLP consistently invests in cutting-edge technologies and tools that enable us to deliver exceptional results to our clients. One of the key reasons for that, we have a team of highly skilled professionals and the company boasts a talented workforce comprising social media strategists, content creators, data analysts, and marketing experts who possess a deep understanding of the ever-evolving social media landscape.
At Kudosta, we specialize in providing top-notch social media optimization (SMO) services that help our clients unlock their true potential and achieve remarkable growth in the online world.
Our range of services under these platforms :
Facebook

Twitter

Instagram

Pinterest

LinkedIn

YouTube
We are passionate about helping businesses harness the full potential of social media. Our SMO services empower brands to reach new heights, drive organic growth, and establish a compelling online presence. Join us on this transformative journey and experience the power of social media optimization with a trusted partner by your side.